A backpack is much more than a simple sports bag, or just a suitcase to pack. A backpack is not only for keeping sports clothes, but also for storing dreams. Jose Bario is fulfilling his own dreams and takes you on a journey to Kilimanjaro.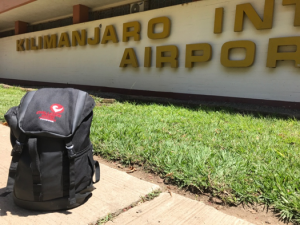 For all of us with goals and objectives that make us enjoy life a little more, we know that a backpack is much more than just a bag. It's where we keep hopes, dreams, and pursuits  that seem crazy to many. For many of us, grabbing a backpack and starting to fill it is the first step of a trip to the world of dreams, where daily challenges give way  to the fulfillment of the dreams that make us get up every day.
Laura Sidall said it in an article she wrote after winning Challenge Madrid in 2018 (https://www.challenge-family.com/news/hola-beunos-dias-greetings-from-madrid-spain/). We all have a long bucket list of things to achieve. You can start with a short bike race or a notorious one through mountain passes. It starts with one step but quickly turns into a long staircase in front of you, and little by little you get up every step. And we always want more and this is what is called life, which we have the great luck to be able to enjoy. We want to feel alive and to have goals that make us feel a little better every day, in sports and in life (which a famous campaign called a very difficult sport).
This time I packed my backpack not for a sports activity but for a challenge that I'd had in mind for many years. Arriving in Africa is always shocking. The colors, smells, the smiling people, the very different food, the curious looks of the children. We left Moshi by car to make the approach to the base of the mountain. At all  stops I take the opportunity to mix with the people in the villages, in the markets, in the restaurants. The colors are very special. Yes, they're blue, or red, or violet, but with a different brightness, another tone, they hit you in a different way.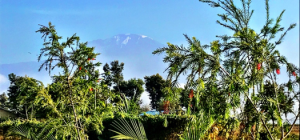 At the Londorosi entrance of the National Park all administrative procedures of registering  the climbers are carried out and the loads that the porters will carry are inspected and weighed: a maximum of 20 kg per person. I weigh my backpack and it is 11 kgs. It's plenty to carry for the 7 days that the trip will last: 5.5 days of ascent + 1.5 of descent. The porters carry 20 kg plus their backpack with their sleeping bag and their own items. They are otherworldly. I would like to know their blood profile. I also wonder what brands they would choose if given the opportunity to ride a bike from an early age.
Lemosho gate: we start the ascent. I smile continuously because the itinerary that I have been thinking about and planning for so long finally begins. Moshi is at about 800 meters and the Uhuru peak, the highest on the mountain, is 5,895 meters. The ascent will pass through five different habitats for the eyes of the traveler to enjoy every day. The initial landscapes are  open farming areas. Then we go to the forest, with multiple species, dense, and with  taller conifers. Next is a desert with low bushes. Starting at 4,000 meters it's all volcanic desert. And at the peak the ice and the glaciers are majestically imposing. Our first destination is  Mkubna Camp at 2,650 meters and completely surrounded by a jungle type habitat. White colobus monkeys hide in the treetops. The crows fly down to the camp to see what food they can snatch.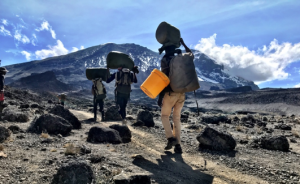 The second day the trek is long. We travel 17 kms and ascend 1,200 meters. We are in the desert. Everything that surrounds us is volcanic. There are no other animals except the ever-present crows, and small rodents and reptiles. It's curious that the huge rocky mass is always present, watching. Always on the horizon. I still can't get over  the sherpas. They do not faint despite the load. We spend the night in Shira II at 3,800 meters. Next stop: Lava Tower, a camp at the base of a huge petrified lava rock. 4,800 meters. It will be the highest point before descending the next day to acclimatize. I don't worry about being in shape because the climb isn't very demanding (except the last day), but there is some uneasiness that I could experience altitude sickness. I have seen a few affected and become zombies. They walk disoriented and have to be escorted by people to keep them from falling. Many yellow faces and vomiting. In the most severe cases pulmonary and even cerebral edema occur. Acclimatization is essential, but it does not guarantee that you won't feel discomfort. I see some climbers who have to go back down because they are no longer able to keep going. At base camp two people were rescued by helicopter when walking became impossible. I am taking Edemox to prevent  altitude sickness. For the moment, everything is perfect except for a daily inconvenience. Edemox is a diuretic and makes me need to urinate continuously. Last night I woke up 4 times to leave the tent and pee. Better this than not finishing the climb.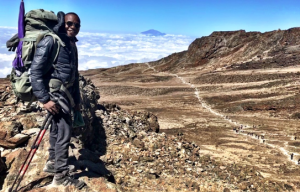 We continue on to Barranco Camp. We descend to 3,900 meters. The name comes from a huge vertical wall of 300 meters that flanks a part of a canyon. The descent is noticeable. Breathing is easier  than at almost 5,000 meters. The next morning we zigzag up the  Barranco "wall". From below it looked more dangerous. There is a significant drop but the path is wide and, apart from a few  steps, not dangerous. It goes back to 4.300 meters but we go down again to 3.995 at Karanga Camp. Although it seems that we take a step forward and then two steps back, it's positive in terms of acclimatization. At night it cools down a lot. The sleeping bag made for -5º is much appreciated. The nights are fascinating. Far from any light pollution, the sky is sublime. The Milky Way paints its white stripe in the most starry sky I have ever seen. At almost 4000 meters below us we can see the lights of Mochi, in the same way we see cities when flying over them in a plane. In the morning we start off above the clouds. The donkey belly is at our feet. We head to the last stop before the top. The climb is long and I chat a lot with Rama, the guide. He tells me about the mountain, and I am interested in learning Swahili. I struggle to remember the words I use often. The main ones of the day are: jambo- how are you (to which jambo poa is answered); visuri sana- I am very well; and of course two expressions that are used continuously: pole pole- calmly; and the everlasting hakuna matata–don't worry!
Barafu Camp. Base camp is at 4.673 meters. We arrive around 12 noon. We rest because at midnight we will attack the top. The Mawenzy volcano is located to the east. It is part of the Kilimanjaro cones along with Kibo and Shira. Three extinct volcanoes that form the stone mass. The highest peak, and our destination, is  Uhuru, which means freedom in Swahili
I try to rest during the afternoon, but the gale prevents it. The wind exceeds 60-70 km / hour and breaks the tent zippers. The  temperature drops to -5º. I'm looking forward to starting because it's impossible to rest due to the storm. At just past midnight we set off. The sherpas no longer continue with us. We start the ascent with headlamps lit, Rama, my expert guide who in the previous year went to the summit 30 times, and a servant. It is very cold, but the worst is the wind. When you lift your feet to step you have to do it carefully because the gusts knock you off balance. There is a 30 degree grade.  Steps are short because of the inclination, the lack of oxygen (to walk more rapidly  means increased heart rate and a feeling of suffocation), and the wind. The silence of the ascent allows me to do all kinds of mental calculations: each step must be about 30 cm per second, which means a speed of 1 km / hour. The ascent takes five and a half hours. When we arrive at Stella Point it's still dark and 16º below zero.
The most complicated part is already done. Now, on practically flat ground, we head towards  Uhuru. The sky begins to turn pink. We walk between 30 meter high glacier walls. There is more and more daylight. We get to the peak of Africa just as the sun appears on the horizon. We are at almost 6000 meters and Africa is at our feet and 360 degrees around us.
My backpack is satisfied. All dreams remain intact inside. It has achieved the goal. Now it just has to be filled with the next destination. Another step in what we athletes call challenge, but in reality is a life lived.