Discover the facts, videos and celebrations of triathlon over the last two decades of Challenge.
#20YearsOfChallenge

2002 - THE START OF A NEW ERA IN LONG DISTANCE TRIATHLON BEGINS
14 JULY 2002
After terminating the Ironman contract in 2001, Quelle Challenge Roth was born under the leadership of Herbert Walchshöfer. The premiere was an instant success with media headlines such as "Roth remains Roth" and "The fans stay true to their triathlon". Lothar Leder, the "King of Roth", wins the race for the third time in a row with a finishing time of 8:17:25 hours and Nina Kraft took the women's title in 9:12:41.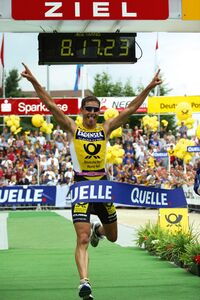 Tragic Loss
On 25 October 2007, the founder of Challenge, Herbert Walchshöfer, lost his battle with a serious lung disease. He left behind his wife Alice, and children Felix and Kathrin, along with a remarkable legacy that changed the face of long distance triathlon forever. This legacy is continued by his family to this day.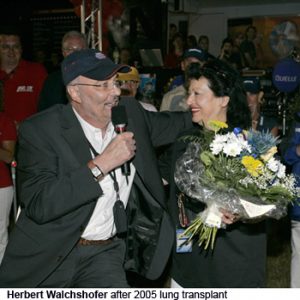 2008 - FRANCE JOINS TEAM CHALLENGE
2009 - SPAIN JOINS TEAM CHALLENGE
12 July 2009
Chrissie Wellington makes her mark in Roth
Chrissie Wellington smashes Yvonne van Vlerken's record of 8:45:48 that was only established in Roth just one year earlier. With an unbelievable finishing time of 8:31:59, Wellington improves the record by almost fourteen minutes setting a new benchmark in women's triathlon.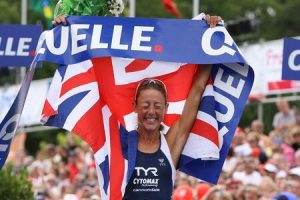 2010 - DENMARK AND AUSTRIA JOIN CHALLENGE FAMILY
2011 - CANARY ISLANDS, UK AND AUSTRALIA JOIN CHALLENGE FAMILY
10 July 2011
Double World Record at Roth
Chrissie Wellington and Andreas Raelert give Challenge a double world record. Andreas Raelert puts up an excellent fight and won his first race in Roth in a 7:41:33 hours while Chrissie Wellington beat her own record of the previous year by exactly one minute, and crossed the finish line in 8:18:13.
2013 - TAIWAN, ITALY, CANADA, THAILAND AND THE NETHERLANDS JOIN CHALLENGE FAMILY
2014 - USA, BAHRAIN, PHILIPPINES, BRAZIL, SARDINIA AND MALLORCA JOIN CHALLENGE FAMILY
Challenge Family Introduces 20m Drafting Rule
In order to promote safe and fair racing, Challenge Family set new standards and introduced a 20m draft zone for pro athletes, with 35 seconds passing time with Challenge Bahrain the first race to feature it. In addition Challenge Family listened to the female pro athletes' comments and implemented a separate start from the pro men and a 30 minute gap to the following age group men, ensuring the race is truly their own.
New CEO for Challenge Family
After more than a decade developing Challenge Family, Felix Walchshöfer makes the decision to step back from the global series to concentrate on Challenge Roth. However, the Walshchöfer family continues to oversee Challenge Family in support of incoming CEO, Zibi Szlufcik.
"At Challenge Family we're all driven by the same thing that drives athletes: the passion to push limits, to perform at our best and to enjoy what we do in style," said Szlufcik. "As has been illustrated at each of our 31 events, Challenge Family goes above and beyond with the highest possible respect for the legacy of the triathlon community. And through our races, we are creating innovative platforms for sustained growth together with our partners sharing our ethical values and morals. Our objective is nothing less than quality leadership with 100% athlete focus."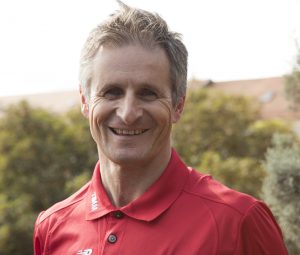 6 December 2014
Challenge Bahrain Breaks New Ground
The greatest field of the time ever seen over the half distance, including multiple Olympians and world champions, all competing for the greatest prize in triathlon. Helle Frederiksen and Michael Raelert took top honours in the first of the big money prize purses at US$500,000.
December 2014
Birth of the PTU (now PTO)
Extract from a letter from Challenge Family CEO, Zibi Szlufcik to then President of the PTU, Richard Allen.
"We wish to congratulate you on bringing this Union together and acknowledge the enormous effort it has taken. We feel very proud to have instigated this process with the Athlete Forums at Challenge Bahrain and Challenge Dubai, playing a part in assisting to lay the foundations for the group's emergence. Challenge Family is committed to improving the standard of triathlon and the professional athletes standing for the betterment of our sport."
It is widely acknowledged the roots of the PTO stem from that first Athlete Forum facilitated by Challenge Family in Bahrain in 2014.
2015 - POLAND, MEXICO AND DUBAI JOIN CHALLENGE FAMILY
2016 - FINLAND, ICELAND, SLOVAKIA, NORWAY, VIETNAM, SOUTH KOREA, ARUBA AND MALAYSIA JOIN CHALLENGE FAMILY
17 July 2016
On the 15th birthday of DATEV Challenge Roth, Jan Frodeno sets  a new world record in 7:35:39, beating Andreas Raelert's previous record by nearly six minutes.
2017 - BELGIUM, CZECH REPUBLIC AND SWITZERLAND JOIN CHALLENGE FAMIILY
THE CHAMPIONSHIP IS BORN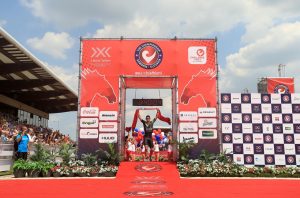 On 3 June 2017 the inaugural The Championship was one by Lucy Charles-Barclay and Lionel Sanders. Based at the iconic Olympic training centre, the x-bionic sphere in Samorin, Slovakia, The Championship was established to bring together the best of the best at both an age group and professional level.
"At Challenge Family we're driven by the same thing that drives our athletes: the passion to push limits, to perform at our best and to enjoy what we do in style. The Championship embodies this and it is our goal to set the new standard in triathlon." Zibi Szlufcik – CEO Challenge Family.
2018 - PORTUGAL AND HONG KONG JOIN THE CHALLENGE FAMILY
9 December 2018
The 'Daytona-Distance' Established
A new distance and a new style of racing around a NASCAR race track was established by Challenge Family in 2018, following on from the success of using a Formula 1 track at Challenge Bahrain and Challenge Daytona was born!
2019 - CHINA AND SOUTH AFRICA JOINS THE CHALLENGE FAMILY
ESTABLISHMENT OF THE WORLD PRO BONUS
The Challenge Family Pro Athlete World Bonus initiative was established to provide professional athletes with the opportunity to race for a share of a US$150k end-of-season bonus as well as the prize purse at races. The World Bonus pays five deep across both men and women.
NEW ERA IN CHALLENGE FAMILY'S HISTORY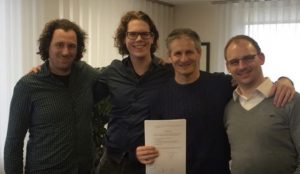 It was all change at the top as Jort Vlam took over from Zibi Szlufcik as CEO, in partnership with Richard Belderok and Jefry Visser. The HQ moved from Germany to The Netherlands. And then COVID struck – undeterred the new management team worked hard to keep races afloat and athletes engaged.
Just four races were able to take place in 2020.
2021 - MALTA, MONTENEGRO AND CHILE JOIN CHALLENGE FAMILY
A RETURN TO (RELATIVE) NORMALITY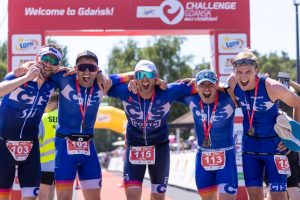 Challenge Family entered 2021 with a commitment to bringing the opportunity to race back to the triathletes, despite the considerable protocols that needed to be followed due to the pandemic. It was also important to provide the pro athletes with the ability to earn a living. By the end of the year, 22 races out of 34 had taken place, including 18 pro races.
Bring on 2022 and another 20 years!
#AllAboutTheAthlete
#20YearsofChallenge