Guten Morgen! Greetings from Nuremberg, Germany
The dust has settled on another incredible week at Challenge Roth, the race site has been dismantled, the athletes have dissipated, Roth returns to life as normal for the next 50weeks until Challenge Roth 2020!
For this postcard I thought I'd take a slightly different angle. Of course, there is Challenge Roth, and all the events and activities around the race itself, and that will come in another postcard, but for this one, I wanted to highlight that there is lots more to do in the region when you come here to race, and it's definitely worth spending a few days, probably after the event to explore.
As I wasn't racing this year, I was able to see a different side to Roth, and to experience more of the local events and the region, and I can say I certainly wasn't disappointed.
Nuremberg, is just a short drive from Roth, and due to accommodation being in short supply in Roth itself, often becomes an athlete hub for competitors. However, it's worth a visit for so many more reasons.
Nuremberg, is a city rich in so much history over the years. From important trades routes, and the merchant's ruling of the city, to being a key part of Nazi Germany, holding the Nazi Party's conventions, the Nuremberg rallies and being the Military HQ.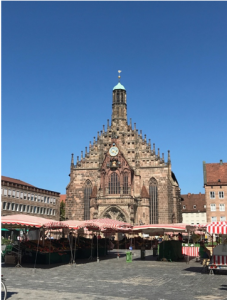 Nuremberg is also famous though, for its culinary delights. From the world famous Nuremberg Lebkuchen (gingerbread) to the Nürnberger Rostbratwürstchen (Nuremberg Sausages), to their brewing history as well in beer and whiskey.  What's so special about sausages though in Nuremberg, I mean we are in Germany. However, the Nuremberg Sausages are different. They are eaten as "3 im Weggla", 3 small sausages in a sliced-open bun ("weggla"). IT appears that size does matter as to be a Nuremberg Sausage it's not allowed to be any longer than 9cm.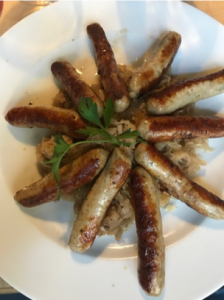 However, let's go back to the sweet stuff… Lebkuchen and it's long history in Nuremberg. Typically tied to Christmas, but in Nuremberg you'll find this delicious gingerbread all year round! They were first baked by Frankonian monks in as early as the 14th century. Nuremberg became famous as the home of Lebkuchen due to the city once being a key intersection of ancient spice and trading routes.
On my trip to Nuremberg, I was incredibly lucky to be able to experience the subtleties of the old craft of Lebkuchen baking. It was a fabulous experience, getting to learn more about the history, the spices, the quality of different gingerbread, and of course plenty of tasting and making our own Lebkuchen to take home (not that it lasted long).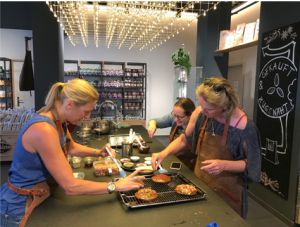 As much as we tried, they were keeping their recipe top secret, but it was a fun filled experience, with a lot of fun and laughs and definitely something I'd recommend if you go to Nuremberg. You at least have to go and try some of this deliciousness!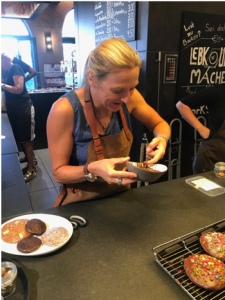 After we'd filled ourselves full of gingerbread, we headed out for a walking tour around the city. Starting in the Hauptmarkt square, and wandering past the Town Hall, several Churches, gorgeous old streets, before finding ourselves at the city walls.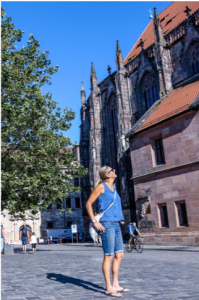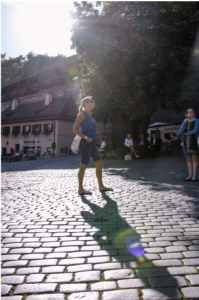 This seemed to be one of the main meeting places for locals and tourists, grabbing a drink and some food and just sitting, talking and watching the world go by. From here we headed outside the walls and weaved our way up to the Imperial Castle, to be greeted with a great vista over the city. With more time, I'd have loved to explore the Castle further but we had more important things to see…
From here we headed back down into the city, on the hunt for beer! You see priorities! Nuremberg has also been an important city for brewing beer, whether light, dark or the traditional red. The beer is also a highlight due to the amazing historical rock cut cellars, cut up to four stories deep into the sandstone beneath Nuremberg. At the end of the 14th century, there were more than 40 breweries in Nuremberg for a population that totalled less than 30,000 people! It was deemed that anyone who wanted to brew beer and sell it would have to have their own cellar for fermentation and storing of beer. It's this medieval law that produced the labyrinth of cellars below the city. (It could also be said that "beer saved lives" as these cellars were then used as air raid shelters during the bombing in WWII.)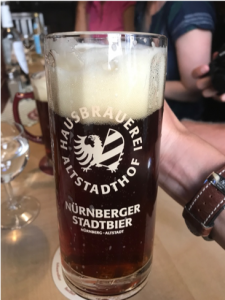 Of course, at the end of our cellar tour, we were able to taste this famous beer itself. If you are more a spirit person, don't despair as Nuremberg is also quite an epicentre for the German Whiskey scene too.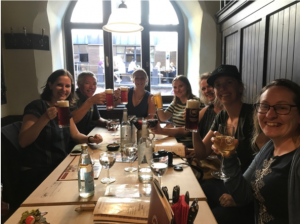 It was a brilliant afternoon spent learning and experiencing more about what Roth, Nuremberg and the region have to offer! We only had an afternoon, and I know only scratched the surface of what this city and surrounds are about. However, another benefit of not racing, was that I actually made it to Nuremberg twice! Just a few days before this trip, I came with my homestay family, and got to see some other sites and finds in the city!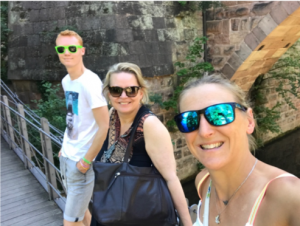 From the impressive architecture and building of the State Museum for Art and Design, to Henkersteg (Hangman's Bridge) that connects to an idyllic small island in the river, to the Way of Human Rights. From the lovely beer garden we found on the river to the Kettensteg (right in front of the city wall, and the oldest surviving iron suspension bridge in continental Europe), to so much more.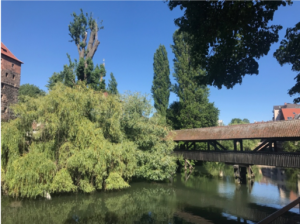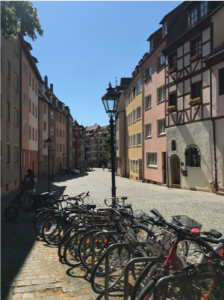 There's lots going on for kids as well. One thing that you may not know, is that Nuremberg also has a history with Playmobil, and you can find the Playmobil Fun Park, just 30minutes from the city. I contacted two of my roving reporters – Emilia and Finley, who visited the park, to give me the inside scoop.
Sid: What is the Playmobil fun park?
Finley: It's a land of 'Playmobil ness'. You can do pirate rafting, go kart driving, play in the jail, play in water areas, sliding, climbing over the castle, play with dinosaurs, milk the Playmobil cows and lots of other stuff.
Emilia: It's a land made of Playmobil where you can drive police go karts, milk Playmobil cows on the farm, play in lots of water, go on water rafts, climb on the Playmobil pirate ship and castle and lots of other things.
Sid: What are your top tips of things to do at the fun park?
F: Be ready to get wet!
E: Make sure you visit the farm and the police and the dinosaurs
Sid: What was your favourite, best part of the day?
F: The Giant water park
E: The police go kart because I loved the funny course to drive around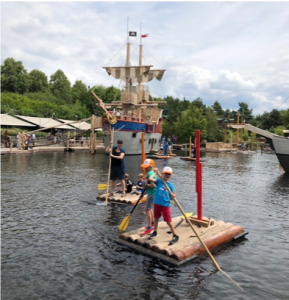 Sid: What 3 words would you use to describe the day
F: astonishing, amazing, fantastic
E: fun, excellent, fantastic
And closing out
F: Junior Challenge* (see the next postcard) is the best race I have done so far, Playmobil is the best fun
E: I loved our trip to Roth in Germany and everyone should go if they can.
*See the Postcard from Roth to follow to find out all about Junior Challenge.
Other places worth a visit –
If you are coming to Roth, it's also worth visiting the golden town of Schwabach. Just 20minutes north of Roth, it's famous for its crafts made of gold, and particularly gold foil. There are five companies that still perform the very rare handicraft of goldbeating.
A little further away (about an hours drive south east of Roth) but still worth a visit, is the city of Regensburg. Again, rich in history and culture, it's one of the best preserved medieval cities in Germany.
If you are looking for a big city to experience, then Munich is a two hour drive south of Roth. So much to do in Munich as you'd expect, various sites and museums in the city, Marienplatz, the English Garden (900 acre park), including even surfing or cycling for beer, but if football is your thing, then a visit to Bayern Munich Football Stadium. For this I called upon another of my roving reporters, Jackson for his top tips and experience!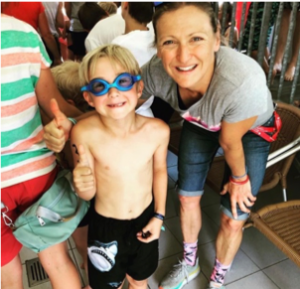 Sid: What did you do in Munich?
Jackson: The soccer stadium is where Bayern Munich play, my favourite team. My favourite player is Alfonso Davies, because he used to play in Vancouver.
Sid: What was the stadium like, what was cool about it?
J: It was so big and you could yell and hear our voices echo!
Sid: What was the best part of the day?
J: The best part of the day was getting to go into the dressing room and going up the stairs like the players do to the field!
And closing out…
J: I love soccer because I get to meet new friends and I'm good at it. I like to kick it as hard as I can at my Dad when he's in the goal.
As you can see, Roth and the region offers so much more than an amazing race, and even the bits I've highlighted here only scratch the surface! So, if you are coming to race Roth in 2020, or even coming to watch and support, or come to line up to grab your slot on Monday morning for 2021, then book a few extra days and give yourself chance to really experience what this region has to offer! Oh, and we've also heard that Nuremberg is pretty magical at Christmas time, and home of the world-famous Nuremberg Christkindlesmarkt.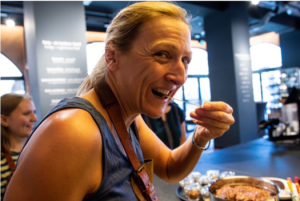 Huge thanks to the fabulous team at tourismus.nuernberg and also my homestay for the memorable days in Nuremberg. As well as Emilia, Finlay and Jackson for their contributions.
Sid x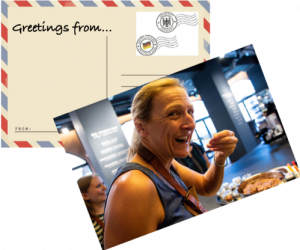 Don't Die Wondering

Twitter: @lmsiddall
Instagram: @lmsid
Facebook: LauraSiddallTriathlete