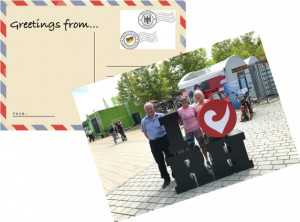 Guten Morgen! Greetings from Roth, Germany
It's one of my favourite times of the year! Challenge Roth – simply the best race. It's like no other race. I am, unashamedly biased from racing here for the past three years and having the opportunity to experience this race.
If you haven't heard about Challenge Roth, then where have you been! In the triathlon world, this race is one of the biggest and best, over 35years of racing, and just thousands and thousands of spectators out on course. The finish line stadium itself holds 10,000 fans!
For 50 weeks of the year, Roth is a small, quiet town in the Bayern region of Germany. It's about a 30-40minutes drive from Nuremberg, where you can fly into. The larger airports of Munich and also Frankfurt are only a few hours away and good travel options as well.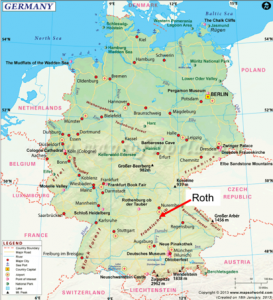 Challenge Roth is the Challenge Family, flagship event. The biggest and best Triathlon event in the World. Have I said that before? Am I biased? Totally! It's just amazing. I don't think I've been to a triathlon event where there is the level of support from the locals and community, that exists in Roth. That everyone, genuinely welcomes the event to the region, to their towns and villages and welcomes all the athletes. Accommodation is sparse in this region of Germany, but there are plenty of options, with a huge homestay network, where locals open their homes to athletes, Pros, age groupers, officials and spectators. I've stayed with the same home stay family (The Von Hardenberg's) for the past three years and won't go anywhere else. My parents have stayed with another home stay family for the past two years. As well as the homestay network, another big tradition for Roth, is camping! Many of the Europeans will drive to Roth with tents, campervans and caravans. Many of the fields around the swim start are open up to athletes and spectators to camp. It makes for a pretty fabulous spectacle. There are hotels, a little further out of town, but still options, if you'd prefer. As with most races these days there are also plenty of travel companies that offer packages to Roth, including entry which can also be a bonus with Roth selling out in minutes.
So, what can you expect from Challenge Roth…
Challenge Roth is a festival of events over several days, if not starting the week before, with the Landkreislauf. This is a relay event with village teams from all over the region who run through 28 areas over the course of the day. A cool event to watch as you perhaps ride around the bike course.
Challenge Roth itself kicks off with the Erdinger Party on Thursday night. As a Professional we have the honour of being dressed in traditional Bavarian dress, so Dirndl's for the women and Lederhosen for the men. There is also a 10km Night Run from Hilpolstein to Roth on Thursday night too. A great hit out for athletes and of course the locals. This year will also show the European premier of The Maxing Out project on the big screen in Triathlon Park. Maxing Out is a journey of unlikely celebrities from Australia embarking on the ultimate personal challenge of doing their first ever full distance event at Challenge Roth in 2018. The celebrities are doing all of this to raise much needed awareness and funds for the 4ASDKids charity, which provides early intervention programs for kids impacted by autism. Maxing Out series 2 athletes will be competing at Challenge Roth this year, and include Eight time Olympic Medalist Swimmer Susie O'Neil, Commando Steve (first to fame as one of the trainers on The Biggest Loser) and Daniel Wills, ex pro surfer.
Friday is the Welcome Function, which as full distance races go, this one is definitely worth making the effort to go to. On Friday, there is also a huge music festival in the centre of town for all the locals and of course any athletes that wish to attend. Saturday kicks off with the kids triathlon, and also the Women's Run. The Women's run is a 5km run just for women, with a sea of pink encompasses the park. I love this event and it's amazing to see all the support that the women receive on this morning. There's so much more going on too, as the expo is the biggest and best I've ever seen, and this year with the World Cup I think they'll have the huge screen set up in the beer garden. But it's also just a great way to view some of the race, or grab a beer and kick back in race week as often they show different sporting events.
So, to the race… 
The swim is in the Main Donau Kanal, just a little north of Hilpolstein. (It's about 10km from Roth itself.) Race morning at the canal is an incredible moving experience. The banks of the canal and the bridge are packed and rammed with spectators and supporters. On the far side of the canal, huge hot air balloons are sitting, waiting to lift off as the cannon fires to start the race. It's the music that always gets me though, with a soundtrack that is calming, yet motivating as well, and always gives me goose bumps.
Bike Course
The bike then completes two loops around the region, before a 10km section back to Roth and T2. It's fast, and often athletes arrive assuming that means it's a flat course, far from it. Challenge Roth bike course has some decent climbs and hills, that will definitely get your attention, but it's fantastic road surface, and also long sections of negative gradient, which with the right wind has you whistling along.
Of course there is the famous Solarer Berg. An incredible experience. As you turn the corner and face the bottom of the hill and just a wall of people in front of you. The noise is so intense, that you can't help going up with a smile and such a buzz as people move out the way leaving you a single track to ride up. It's really something else.
Run
The run course starts in Roth, and of course finishes in the incredible stadium at the Triathlonpark. The heart of Challenge Roth, but more on that later. The run course has slightly changed the last three years I've raced, and in 2018 it was a combination of the previous two. Starting as normal and heading out to the canal and then hitting 20km along the banks of the canal. It's compact track, where if you can hit your rhythm and stride you can motor along. After almost half the run, you then head back to Roth and run through the town square on the cobbles before heading out in the opposite direction through a shaded tree lined, rolling road to Büchenbach. The atmosphere at Büchenbach is like another Solarer Berg, and is just a crazy party atmosphere that carries you round the pond and gives you a final boost for the last 4-5km to the finish.
What can I say about the finish, the stadium… just simply the best finish line in the World. Challenge Roth is unique and has grown a well deserved reputation with the finish line it creates. The build up to the finish line is pretty awesome too, as your final few kilometres on the run are back through the town centre of Roth, packed with support. You can almost hear the stadium atmosphere pulling you home. On entering Triathlon Park, you start down a traditional finish chute, which cuts through the food trucks and beer garden and is lined with spectators and supporters. But it is as you head under the Media Tower that the magic really happens and you first step foot into the stadium.
It's pretty unique to finish a race in a stadium, and you get to run three sides of the stadium, packed, packed with supporters and energy, before you take those final few meters to cross the finish line.
What this stadium gives, with its capacity for over 10,000 spectators to watch, is energy and inclusion and involvement. For the spectators they get to see athletes for more than just the few seconds they run past. It's much more involving than your normal finish chute. It also creates this cauldron of energy and atmosphere as the hours tick on and night falls.
For the athlete they get a truly amazing finish line experience, almost giving them the opportunity for a lap of honour as they finish the race. At the finish line you are greeted by The Walchshoefer family and more amazing volunteers, as well as friends and family. They encourage teams to cross together, they encourage you to run around the stadium with your family, your children, your supporters. As the night falls the place is lit up with flames, glow sticks, sparklers and the most amazing fireworks at the end of the night. It's a truly magical and special place.
Sadly in 2019, I won't be racing Challenge Roth. To say I'm gutted is probably an understatement. I love this race and everything about it. Unfortunately, I had to withdraw from Challenge Roth a couple of weeks ago when I broke my collar bone. Was there an outside chance I could recover in time to race? Yes. But having fortunately been lucky to never having broken a bone before, I wasn't sure how I'd heal and didn't want any pressure to rush an injury to get back to be on the start line. So as much as it hurt it was the right decision to withdraw from the race.
However, let's have a look at the start lists for this year and see who's lining up.
Women
Last year saw an epic battle between Daniele Bleymehl (then Saemmler) and Lucy Charles-Barclay, Bleymehl winning by just a few seconds over LCB. This year LCB returns with for sure an eye on taking the title that was snatched from her grasp in 2018. LCB has only been beaten by Daniele's! Bleymehl here in 2018, and Ryf in Kona the past two years. She'll be tough to beat in 2019, as having one more year of racing, and the experience of the course from last year.
Sarah Crowley comes to Roth for the first time, but with an impressive resume of results. Recently finishing second at Ironman Cairns, Crowley was sixth at the Ironman World Championships in 2018, and finished third in Kona the year before. Crowley has a plethora of regional championships and world titles (ITU Long Course 2017) to her name and will be wanting to add Challenge Roth to that, and add her name to the elite group of women who have won here before.
Another first timer in Roth, is the Purple Tiger, also known as Rachel McBride. McBride will likely be near the front of the race after the swim and the bike, and will be hoping to put together a good run to hold off some of the faster runners coming from behind. Agnieszka Jerzyk recently finished fifth at The Challenge Championship, with a strong swim bike and solid run. It'll be interesting to see how this two time Olympian fares over the full distance. Other athletes to keep an eye out for are Kate Bevilaqua, Lisa Roberts, Els Visser, Caroline Lehrieder, Vanessa Pereira and Simona Krivankova, all very much in the mix and challenging for top results. However, there is a total of seventeen women starting and on the day anyone stands their chance and opportunity for a podium finish.
Men
On the men's side, 2018 Ironman World Championship second and third place finishers – Bart Aernouts and David McNamee are down to start. Aernouts won Challenge Roth in 2017, so is familiar with the course and of course will be wanting to return to the 2017 winning ways at this race. For McNamee it's his first time racing in Roth. The pair recently met again at Ironman 70.3 Barcelona, Aernouts getting the better of McNamee over that half distance, but it'll be exciting to see the Kona rematch on the Challenge Roth course. However, it's not just these two men – there is a quality line up all wanting to take that win.
One of those could be Braden Currie. An out and out racer and recently had an impressive and convincing win at Ironman Asia Pacific Championships in Cairns. Andy Dreitz finished second here in Roth in 2018, and will be keen to move up one step on the podium in 2019. Fellow German Andi Boecherer is another athlete that could be in the mix for this year, as well as Andy Potts from the USA. Potts will be looking to take it out hard in the swim and make the rest of the men work hard to catch him. Potts recently won Ironman Brazil. Another name on the start list that you just can't go past if Cameron Wurf. Wurf finished fifth here in Roth last year, leading the way for a lot of the race, before being passed on the run. However, since Roth 2018, his run has got better and better each race. Wurf finished ninth in Kona last year, and then earlier this year, showed he has improved once again to win Ironman Australia. I wouldn't be surprised if Wurf takes this race out, or it's going to take some fast runners to catch him, as he ran a 2.50 in Australia, which isn't necessarily a fast course. With some thirty plus men on the start list, there's a whole host of athletes who could have their day and challenge for the top spots.
2019 is going to be another exciting year for Challenge Roth
Whilst I'm not racing in 2019, I'll still be there, as it's just a race not to miss! So keep an eye out for some posts from me over social media over the coming week to keep you informed to what is going on, in and around Roth!
For race day coverage, you can follow the Challenge Roth social media channels but the race is also for the first time in more than 35years of triathlon in Roth, being live broadcast in its entirety on Bavarian TV from 0615hrs to the end of the women's race around 1530hours!! That's pretty exciting.
If you're coming to Roth, make sure you come up and say hi!
Bis zum nächsten Mal….Until next time…. Tschüss, Auf Wiedersehen!
Sid x
Don't Die Wondering

Twitter: @lmsiddall
Instagram: @lmsid
Facebook: LauraSiddallTriathlete