Triathlons; they come in different distances and are held all over the world. Unfortunately you can't participate in all races and as an athlete you'll have to make a choice from time to time. In any case, there is reason enough to choose for Challenge Almere-Amsterdam! This year's race will be held on 9 September and there are only less than 200 slots left. And – even important – a price rise is coming up at 7 August. Registrations for Challenge Almere-Amsterdam can be done here.
1. Challenge Almere-Amsterdam is the oldest Long Distance triathlon in Europe and the second oldest triathlon in the world. With 42 years of triathlon history, Almere has a lot of knowledge about how to organize a spectacular and unforgettable event. Challenge Almere-Amsterdam Almere was the host already of several World Championships and European Championships. For 42 years it has been all about the athlete.
2. Triathletes are the most important at Challenge Almere-Amsterdam and that is partly due to the more than one thousand volunteers who annually work with a lot of passion, enthusiasm and commitment to organize a great event. The volunteers in Almere are special and incomparable with anyone else; they are the heart and soul of Challenge Almere-Amsterdam. They treat athletes like heroes and do everything they can to give them an unforgettable day.
3. Every athlete is more than appreciated: the last finisher is welcomed with at least as much enthusiasm as the first. The ecstatic crowd and the swarming stadium ensure that you will not be able to finish without goosebumps in Almere.
Text continues below picture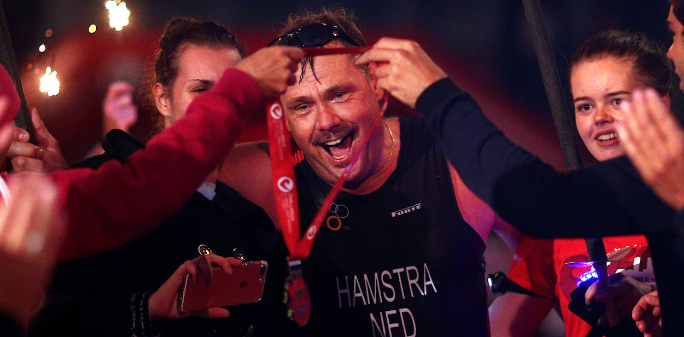 4. Even after the finish, Challenge Almere-Amsterdam remains highly special. For example: did you know that Race Director Richard Belderok is waiting behind the finish arch to hand all the athletes their well-deserved medals and to ask them how the race went? 
5. The entire course is below sea level.
6. With a course record of 7:37:46 in the men's (Kristian Hogenhaug, 2021) and 8:32:04 in the women's (Sarissa de Vries, 2021) race, Challenge Almere-Amsterdam is unmistakably among the five fastest races in the world. This is the place to be if you are hunting for a personal record and therefore hope to improve your best time.
7. The event area of Challenge Almere-Amsterdam is compact and forms the center of all the action. As a participant you will pass here more than ten times during the race and you are constantly moving between rows of cheering people. Of course, the stadium speakers encourage you, tell you personal anecdotes about the participants, you see your friends and family here and you get lots of energy for the next kilometers. During the run, you can see the stadium in the distance several times and for much of the marathon, you can even hear the frenzied crowd inside the stadium shouting. Where do you get goosebumps during a run like in Almere? 
Text continues below picture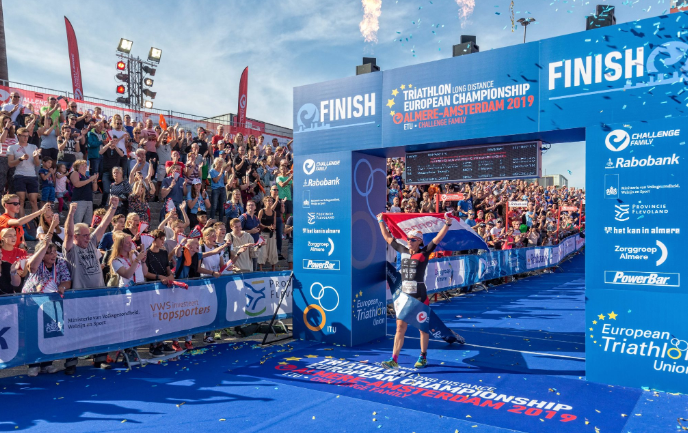 8. In addition, the Challenge Almere-Amsterdam event area is located directly adjacent to the city center of Almere. Here you will find hundreds of stores, dozens of restaurants, modern hotels and famous architecture. Very close to the city you'll find unspoiled nature, the world famous Oostvaardersplassen (which you'll bike through during your race) and of course the metropolis of Amsterdam.
9. After your finish as an athlete, you'll find yourself in the so-called 'Athletes' Paradise': the after-race care at Challenge Almere-Amsterdam is from a level nowhere seen before. You can eat and drink whatever you want; from international cuisine to typical Dutch snacks, both unhealthy and healthy. Have you ever tasted a Dutch stroopwafel or 'bitterbal' for example? 
Extra. Challenge Almere-Amsterdam is annually highly rated by all participants in the evaluation after the race. Critical points are taken seriously and adjusted as much as possible: the event gets better every year, based on the input of athletes.