Servus! Greetings from Walchsee, Austria!
From my last race in city centre Prague, this was the opposite in the stunning mountains of Walchsee, Austria.
Challenge Kaiserwinkle-Walchsee, is set in the Tirol region of Austria, close to the German, Bavarian boarder. Munich airport is just 75mins away. A winter haven for skiers, in the summer the gorgeous mountains make a beautiful back drop for this race. I often regret not being able to stay longer in the places I race, as there is so much more to explore and do in every location, and Walchsee is no exception. The multitude of hikes in the mountains around the lakes, kayaking, horse-riding, high ropes, canyoning, and much more as well as the Biokaserei, cheese shop! Salzburg (think Sound of Music) is also pretty close and worth a trip. Walchsee is just a chocolate box picture postcard place, with locals dress in dirndls and lederhosen, gorgeous typical Austrian chalets throughout the towns and then speckled about over the green rolling hills, where cows graze, their cow bells ringing out in a comforting and relaxing soundtrack to this place. The hills really are alive and it truly is a magical place.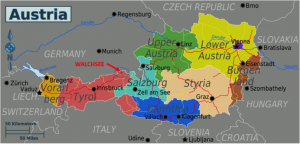 Challenge Walchsee is expanding and becoming another great multisport festival for all the family. On Saturday they have a 5km Women's Run, one loop around Lake Walchsee followed by the Junior Challenge. This sees kids as young as under 6 and up to 16year olds, swim and run over increasing distances starting with a 15m swim and 100m run for the little ones, and all the way up to a 400m swim and 3km run for the bigger ones.
A new event for 2018, was the open water swim races on Saturday afternoon. A 750m, 1.9km and 3.8km option in Lake Walchsee, saw a great turn out of 100 people for its inaugural year!
About to lead out the Challenge Women's 5km Run
The middle distance race, is on Sunday, with a very sensible 9am start.
Swim
A straight forward one lap course in the gorgeous mild waters of Lake Walchsee. It's clearly marked with easily sited buoys as wells various land marks that you can also use. When you make the last turn, you just head to the yellow tower of the church that raises up from the trees, marking transition and the race finish line, as well of course the swim exit.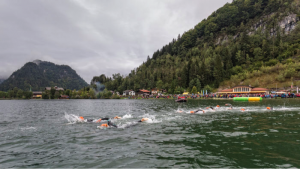 Stunning setting of Lake Walchsee, even on a cloudy day
José Luis Hourcade (www.joseluishourcade.com)
Bike
The bike is a two loop course around the region. A figure of eight loop means you come back to the centre of Walchsee twice on each loop. It's a stunning course and you really can't stop smiling as you ride around. Rolling terrain, it takes you through the hills, ups and downs and some technical corners there's plenty to keep you occupied, not even including the view! It's great fun though, well marked, and marshalled, with locals coming out to watch, sitting outside their houses, and ringing their cow bells in encouragement.
Rolling through the Austrian countryside
Run
The run course is four laps around Lake Walchsee, on a mix of road, and compact track. No huge hills but rolling terrain again, but with great atmosphere and support all around the loop.
Running around Lake Walchsee on the four lap run course
José Luis Hourcade (www.joseluishourcade.com)
This was my second year racing Challenge Walchsee. I won in 2017, which was a really special occasion in some crazy cold rainy conditions. This year, whilst it was still quite cloudy, not that that takes away from the beauty of this place, it was a lot warmer and on race day almost perfect conditions. Cool, but dry.
I was excited to be asked to lead the Challenge Women's 5km run on Saturday morning. This meant riding a mountain bike leading the women around the course. It was just brilliant to see so many women turn up and there was a great battle by the leading two women, meaning I had to cycle pretty fast to keep ahead of them! I was possible more nervous for this race, not wanting to go the wrong way or would I be able to cycle fast enough! But it was a fabulous experience. I was also able to watch the U6 kids race in Junior Challenge. Just three brave souls stood on the start line, having had one last minute withdrawal,in this age group. They just had a short 15m swim, and then a 100m run to the finish line. Heck were they speedy and competitive and it was just amazing to see the smiles on their faces as they ran to the finish.
Sunday was the day for the middle distance event. A 9am start for the Pro Men, 9.05am for the Pro Women and then 9.15am for a rolling Age Group start. Thank you again Challenge for accommodating a good start time procedure, with a good 10min gap between the Pro women and Age Group athletes.
I knew there were a couple of good Italian swimmers, and they shot off from the beach start. A group of five of us formed and stayed together for most of the rest of the course. I managed to work my way up from the back of this group to the front and got a bit of a break coming back into the exit.
Kaiserschmarrn! Probalby the best recovery (and pre race) food going around,
and of course fabulous volunteers!
Onto the bike and three of us got away together, and soon caught the third place woman, about 5km out of town, and early splits informed us we were taking out time to the front. Eva Wutti was pushing the pace on the longer climbs, and I was able to push it on the descents and corners. We caught the second place woman at about 30/35km, but the leader, Margi Santamaria, was now pulling away from us. On the second loop Wutti managed to pull away on one of the climbs just too much for me to make up the time on the descents. She was like an Austrian mountain goat, so strong and solid, and towards the end of the second loop I manged to stretch away from the Bianca Steuer, coming into T2 in third but with some time to make it. It wasn't a sparkling display for me on the bike, but pretty solid and strong but was hoping for some good run legs to turn up.
A rolling, twisting, tough but awesome fun bike course.
With the run being four laps you don't really get chance to spot your competitors so are a little reliant on splits and just continuing to push forward. I found pretty good legs and felt I was running strongly, but wasn't really making up time to the lead, over the first lap or so. Just kept telling myself to keep pushing and running strongly and the time would come down. Wutti was on a flyer, and was gaining on Santamaria up ahead, and would take the lead. I was suddenly closing in on second and still feeling strong, but Wutti would be too far ahead and running that bit quicker for me to catch. I finished second, with a solid performance across the board. Some good positives to take away as I head towards my next races over the coming weeks.
Congratulations to Eva Wutti for a great win in her home country, and to Margi Santamaria for making it a hard task to catch her, as she then finished third. Well done to everyone who raced at Challenge Walchsee, in what turned out to be a great day weatherwise in the end for racing.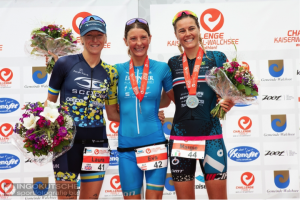 Congratulations to Eva Wutti and Margi Santamaria.
Challenge Walchsee is definitely another race to put on your list with a very Austrian Alpine feel. It also should be mentioned, that they serve the best post race (actually and pre race) food too… Kaisershmarrn! That's a good enough reason to come race Walchsee alone!
Pfiat-di and till next time!
Sid x
Don't Die Wondering
Twitter: @lmsiddall
Instagram: @lmsid
Facebook:https://www.facebook.com/LauraSiddallTriathlete/