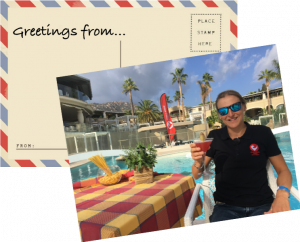 Dobrý deň! Greetings from Samorin, Slovakia
Well to be honest, I'm not quite in Samorin yet, but will be next weekend for The Challenge Championship. So, I thought I'd give you a heads up on what to expect (or what you're missing out on) for the weekend.
The Challenge Championship is now in its third year, becoming a firm favourite for Pros and Age Groupers a like. Over the past few years we've seen some epic battles between Lionel Sanders and Sebastian Kienle and also Lucy Charles snatching the victory in the final kilometre (2017). This year Lucy will line up going for her third successive title, and with no Lionel Sanders racing, a new men's Champion will be crowned.
The Challenge Championship takes place at the X-Bionic Sphere in Samorin, Slovakia.
Slovakia, officially the Slovak Republic is landlocked in central Europe, bordered by Poland to the North, Ukraine to the East, Hungary to the South, Austria to the West, and the Czech Republic to the Northwest. The Slovak Republic has a population of 5.4million and the capital is Bratislava.
Samorin, is about a 30minute drive from Bratislava, or about 75minutes from Vienna in Austria and is situated on the Danube River. So, it's pretty easy to get there either flying into Bratislava or Austria.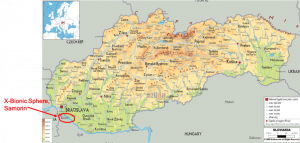 The X-Bionic Sphere is a multifunctional, world class training facility and hotel. (It was the Olympic training centre in Slovakia leading into the Rio Olympic Games in 2016, and has one of the most modern and biggest Olympic equestrian centre.) For Triathlon, a stunning 50m outdoor pool, 25m indoor pool, 200m and 400m running track, along with kilometers and kilometers of running and riding along the Danube River and surrounding areas, as well as three floors of weights and gym equipment. With four restaurants and two bars on site too, there's options to keep you fed and watered sufficiently, and if you just want to kick back and watch a film, head to the super cool Tuli Cinema! (Also, if like me, three years ago, you had no idea what X-bionic was, it's a high tech functional sports clothing range (https://www.x-bionic.com/en-de/company).)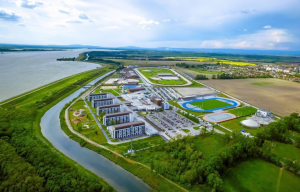 Over the weekend there will be a whole host of events for all the family and all levels of athletes, whether just starting out in the sport, or more established and qualified for The Championship. So bring all your family and friends to support and get them to participate in one of the other events going on over the weekend.
Tryathlon (300m swim / 13km bike / 3km run)
Sprint Distance
Olympic Distance
Olympic Distance Relay
Kids Running events
The Challenge Championship, Middle Distance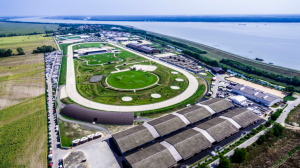 The Challenge Championships course is a flat and fast one, but with the implementation of the 20m drafting rule, it certainly sorts out the athletes.
Swim
An anticlockwise 1.9km loop in The Danube River. Pretty straight forward, and not hugely affected by the current in the river. Water temperatures last year made it a non wetsuit swim, but it was a wetsuit swim in 2017, so maybe pack both this year!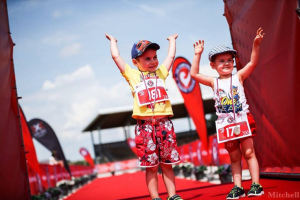 Bike
A flat and fast bike course taking you out of the X-Bionic Sphere and onto the roads and through the local villages in around Samorin. You'll head for 30km along the banks of The Danube, through Bac, Horny Bar and Trstene na Ostrove through to Gabcikova, where you head over The Danube and then turn back towards Samorin, but on the other side of the river on a one-way canal path. Turning at 45km you'll come back on a parallel road before joining up with the original outbound course to cross back over The Danube and head back the way you came to the X-Bionic.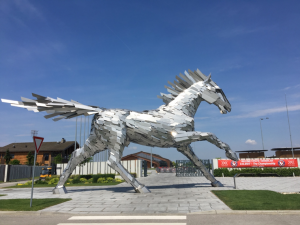 Run
The three-loop run course takes you all over the X-Bionic Sphere facilities as well as a section on the banks of The Danube again. From T2, you'll join the run course and do a winding lap around the equestrian centre and main race site taking in a mix of grass, tarmac and compact track, before heading up onto the river bank for an out and back section. Repeat this lap twice more before being able to turn into the finish chute to take the tape.
PRO Women
Lucy Charles will look to go for her third consecutive title this year. In 2017, she over took both Annabel Luxford and Heather Wurtele in the final 1km to take the title, and in 2018 held off a fast finishing Anne Haug. This year Charles will have to fend of Haug again. The pair have raced a few times over the half and full iron distance, with Charles getting the better finishing just ahead of Haug each time. But could this be the year that Haug turns the tables.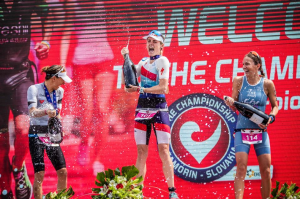 In form Radka Kahlefeldt also returns. Kahlefeldt was third in 2018 and it kick started an impressive run of form over the back end of 2018 and into 2019. Ellie Salthouse is also one to watch, also showing impressive form of late over the middle distance, so to Amelia Watkinson. Having had a quiet few years with injury, Watkinson now working with Cam Watt is showing winning form in her recent races and will be in the mix in Samorin.  Alex Tondeur could also play a part, although doesn't necessarily have the swimming power will be using her strong bike and run to real in the front women. Tondeur recently won the ITU Long Course world Championships in Pontevedra earlier this month. Another women that will be a likely feature is Challenge Family Ambassador Daniela Bleymehl. Bleymehl comes of her three-peat at Challenge Heilbronn having had a real brake out year in 2018, where she over took Lucy Charles in the final few kilometres of Challenge Roth to take the win.
It's an exciting women's race, with plenty of competition trying to take away Charles' title!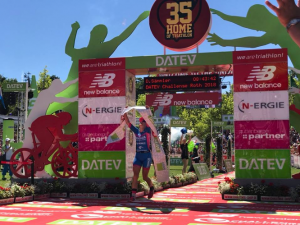 PRO Men
The last two years has been a battle royal between Lionel Sanders and Sebastian Kienle, Sanders coming out the Champion on both occasions. In 2019, there is no Lionel Sanders on the start list, so is this Kienle's chance to take the title he so wants. However, Kienle won't necessarily be getting it all his way either with a very strong men's field lining up.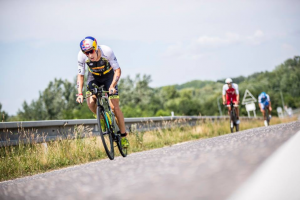 One of the favourites to challenge for the win is American Ben Kanute. Kanute can compete with the best in the world over all distances from sprint through to the middle distance. He's an exciting racer who will charge of the front and will certainly mix it up in Samorin. Florian Angert finished third in 2018 at The Championship, and heads to Samorin off a second place (behind Kienle) at Challenge Heilbronn. Angert is one of a number of strong German men competing at The Championships. Two of the other notable Germans are Andreas Dreitz and Michael Raelert. Raelert finished third in the inaugural event in 2017, and has an impressive resume from his twenty four years in the sport. A two time Ironman 70.3 World Champion and three time Ironman 70.3 European Champion, Raelert could and will likely still challenge and be present in the race at X-Bionic Sphere. Dreitz finished fourth in 2017, and is likely to try and stir things up on the bike. Some impressive results over the middle and long distance definitely put Dreitz as a contender here. Then add into the mix David McNamee. Third place in Kona in 2017 and 2018, McNamee knows how to perform on the big stage when it counts. Recently finishing second at Ironman 70.3 Barcelona, he'll be fired up to take the win in Samorin. Rudy Von Berg is another male to definitely take note of. He was the 2018 Ironman 70.3 European and South American Champion, and recently became the 2019 Ironman 70.3 North American Champion. Another Championship title to his name is well within his grasp.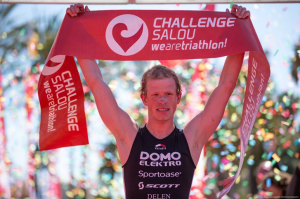 Pieter Heemeryck is a strong favourite within the Challenge races and currently sits (jointly) at the top of the Challenge Family Bonus Series. Heemeryck won Challenge Daytona last year and continued the winning form taking out Challenge Salou and Challenge Gran Canaria this year.
Then there is no missing Cameron Wurf on the start list. Likely to light up the bike course, Wurf destroys most courses and now has a run to match the best in the world. If he gets away on the bike, there may be no catching him on the run!
2018 Results
Women

1st – Lucy Charles

2nd – Anne Haug

3rd – Radka Kahlefeldt

4th – Emma Pallant

5th – Kaisa Sali

Men

1st – Lionel Sanders

2nd – Sebastian Kienle

3rd – Florian Angert

4th – Pieter Heemeryck

5th – Maurice Clavel

2017 Results
Women

1st – Lucy Charles

2nd – Annabel Luxford

3rd – Heather Wurtele

4th –  Rachel Klamer

5th – Ellie Salthouse

Men

1st – Lionel Sanders

2nd – Sebastian Kienle

3rd – Michael Raelert

4th – Andreas Dreitz

5th – Richard Murray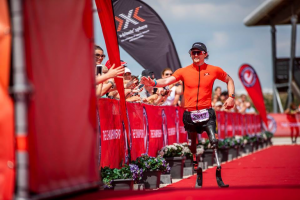 Live Coverage
So, with the exciting and mouth watering line up in the women's and men's races, how do you get the chance to watch the race unfold if you aren't lucky enough to be in Samorin.
Well, once again The Championship will go out live, so you can follow the action online and see how the race unfolds. The livestream will be broadcasted on both Slovakian and Czech television and Challenge-family.live. The feed will start 30minutes before the start of the race to capture the atmosphere in the build up to the gun firing. Myself and John Levison (www.tri247.com) will be bringing you all the action across the race! I'm pretty excited about having this front row seat to watch the action and hope that I can share the experience with you all, ensuring you also get a front row seat to watch the world class racing.
Slovakian
Finally, for those of you heading to Samorin, here are a few phrases that may come in handy during your stay.
Hello – Dobrý deň (pronounced DOH-bree deñ)
Good morning – Dobré ráno (pronounced DOH-brehh RAA-noh)
Good night – Dobrú noc (pronounced DOH-broo nohts)
Goodbye – Do videnia (pronounced doh VEE-deh-nyah)
Thank you – Ďakujem (pronounced JAH-koo-yehm)
You are welcome -Prosím (pronounced PROH-seem)
Yes – Áno (pronounced AAH-noh)
No  – Nie (pronounced NYEE_eh)
How are you? – Ako sa máš? (pronounced AH-koh sah MAA-sh?)
Do you speak English? – Hovoríte po anglicky? (HOH-voh-ree-teh poh AHN-glits-kih?)
I don't understand – Nerozumiem (NEH-roh-zoo-myehm)
What's your name? – Ako sa voláte? (AH-koh sah VOH-laa-tyeh)
My name is … – Volám sa … (VOH-laam sah …)
Excuse me – Prepáčte (PREH-paach-tyeh)
A beer, please – Pivo, prosím. (PIH-voh, PROH-seem)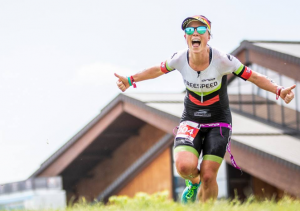 Wishing everyone the very best for a fantastic weekend or racing or spectating! For those of you in Samorin, I'll see you there, so please come and say hi. For those of you watching on line, I'll also see you as I'm excited to be part of the live commentary team for the coverage!
So, till then,
Ďakujem a Do videnia
Sid x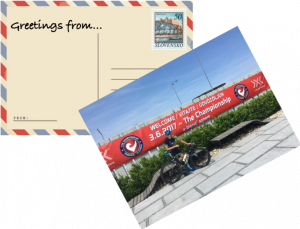 Don't Die Wondering
Twitter: @lmsiddall
Instagram: @lmsid
Facebook: facebook.com/LauraSiddallTriathlete/