Hallo! Greetings from Cape Town, South Africa
It's been a while between trips, but it's a good postcard to come back with, all the way from Cape Town, South Africa and the inaugural Challenge Family Cape Town.
It's the first time that a middle distance race has taken place in what is known as The Mother City. Cape Town is on the South West Coast of South Africa. It sits at the foot of the iconic Table Mountain, or rather raps around the base of the mountain and The Twelve Apostles Mountain range. Cape Town has everything, the ocean and beaches, a city full of vibrant colour and culture, the mountain, wine regions and more.
Cape Town International airport is just a twenty to thirty minute drive from the city, and as soon as you step of the plane, you are greeted with the iconic backdrop of Table Mountain.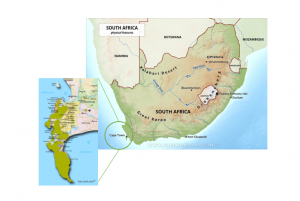 This year's race, the first Challenge Family Cape Town, took in some iconic and historic sites of the city. Registration and the welcome function was held in The Castle of Good Hope, which less than a century ago had the sea lapping at the walls of the castle, yet it now sits over 1km from the waterfront, due to reclaimed land. It's South Africa's oldest surviving colonial building and the headquarters for the Western Cape military command.
The finish line was in The Company Gardens, with the back drop of Table Mountain. The Company Gardens was once the vegetable patch for the Dutch East Indian Company but is now a Public Garden, and is also adjacent to a lot of the Government buildings.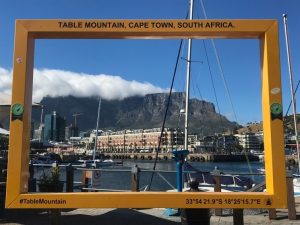 Whilst the race finishes in the heart of the city, the swim takes place a little round the coast and out of the city at Big Bay. A one lap ocean swim heading straight out towards Robben Island is followed by a pretty flat fast bike. Three laps around near the swim start, before heading back to T2 at The Company Gardens back in town. The bike is on completely closed roads to start with and then on a closed bus lane as we head into the City. Challenge did a great job at coning off and marshalling a lane through the city, which was pretty cool. The run is in the city with Table Mountain looming over the course, and the finish line just an iconic setting, making a pretty special finish to the race.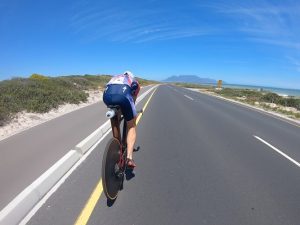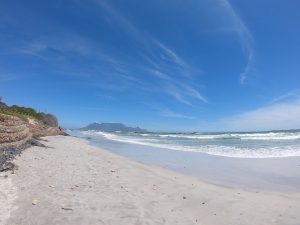 I last visit South Africa in 1997, on a school Hockey and Netball trip, and ever since I'd been keen to get back there. So when Challenge Family announced Challenge Cape Town, it was a no brainer to return. (Sorry it was before digital cameras and phone cameras I think…I only have photos printed out at home in the UK in an album.)
Since I broke my collar bone in May I've been struggling to find the form I would have liked. My past few races on return haven't been what I was hoping for. For those races, I had been wracked with a lack of confidence in my form, who I was, and my training. However, I came to Challenge Cape Town with a relaxed attitude, I think probably with the excitement of being able to return to South Africa and explore. I was calm and went with the flow of activities that leads into race week. Cape Town does have some logistics to manage with the locations, but I took these in my stride, as it was just a fantastic opportunity to be in Cape Town and part of the first race. You could tell the Challenge Cape Town team were so proud and enthusiastic to have the race. It was great to be part of that.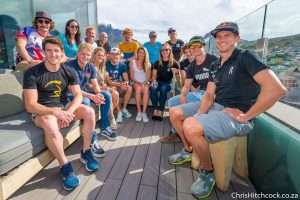 Race Day – a beach start saw us running into the ocean. The male Pros, when they had started, had been swept to the right, so we knew we had to head left. I had a decision to make. I'd swam in the ocean on Friday when the surf was pretty decent, taking me back to my Bondifit days in Sydney, and I knew there was a rip to the left by the rocks. I had a decision to make. My swimming has been shocking of late, so I knew I didn't really have anything to lose as I was likely so much slower than than the pack anyway. The decision though was to A. Stay with the women and just try to keep with them as long as I could or B. Run further left and try to get the rip to take me out towards the first buoy. The cannon fired. F*#k it! I went left. Thankful to my days at Bondifit, I felt I got out through the surf better than the other women, and using the rip was holding pace with the front of the group. (I have to add the ocean was almost perfect conditions for the swim, so nothing to worry about.) As we got further out though the 'swimmers' could hit their stride and I saw the group move ahead and swim off. Oh well… just keep swimming just keep swimming. I did have a chuckle to myself as I changed my breathing side for a breif minute and found I had my own personal paddle board escort with me. I figured I was so far behind the rest of the women now, they were worried about a lone swimmer, or they thought I was going to drown!!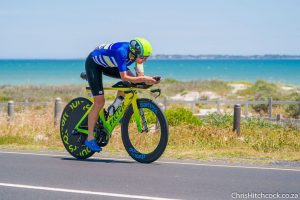 It's always a little embarrassing to come into T1, your bike solo on the rack, not knowing quite how far behind you were, but knowing it wasn't good either. However, I got out on the bike course and for a change, it felt like I might have some bike legs with me. The lapped course meant I got a check point on the rest of the women ahead. Whilst it wasn't disastrous, it wasn't great, but I focused back on me and my riding. At each turn I noticed I was gaining, and this kept me driving forward. By halfway I'd managed to catch and over take some of the women moving into third. Whilst I was still gaining on the now leading pair of Emma Pallant and Annah Watkinson, we then started the one way section back to T2, so I'd lose reference points. It was a just a case of keep pushing and see if by T2 I could claim more time back or even catch them.
As I struggled in T2 to get my trainers on, that awkwardness when your toes are a bit numb and you can't direct your foot into the trainer, but knowing at the same time you need to get a fizzle on, but at the same time not panic, I got a split that I was within a minute of the lead. As I headed out onto the run I could see Annah up ahead and not too far.
Wow that run course was tough! There was no flat in that, and the hills weren't long but they were steep and had a bite! The run was three laps, with a couple of out and back sections where it was a good opportunity to check progress (or not) against the women ahead. Emma was away and as a superior runner I was not going to catch her. But my run legs haven't quite returned either and whilst I still dug I wasn't making ground on Annah in second and in fact losing a little time each lap.
So, for the first Challenge Family Cape Town race, congratulations to Emma Pallant, another fantastic win, another win to her ever growing and impressive resume. Congratulations also to Annah Watkinson, the local South African favourite, for her second place. Congratulations also to everyone who raced and took part in the first, inaugural Challenge Cape Town.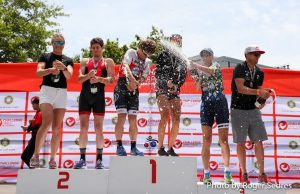 One of the things I love about Challenge Family races is the fantastic locations that they are in, and Cape Town is no exception. I was fortunate to be able to take a few days after the race to explore. I hope this shows you that it's worth booking your entry to Cape Town 2020, and use it to explore the colour of South Africa. I only scratched the surface in Cape Town, as there's plenty more to explore in the City, as well as further around the country and in Africa.
Table Mountain: I'd definitely recommend a hike up Table Mountain. Of course you can get the cable car up, but come on, we are all athletes and it's an amazing landscape and worth hiking up. There are several routes you can take, so you could even do it multiple times if you wanted! You do have to pick your days, as Table Mountain is also renowned for its Table Cloth, the cloud cover that can sometimes pour over the top. But it's definitely worth the trip, either by foot up and cable car down, or cable car both ways of course. You can even choose a helicopter ride to see the land from above.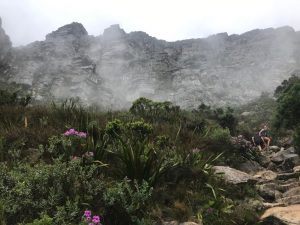 Lions Head: Another great hike to do with amazing views at the top as well, is Lions Head, and you can combine this with Signal Hill. You can also drive up to the top of Signal Hill. The Lions Head hike is great, but there is a fair bit of clamouring up the rocks, and if you are a little fearful of heights, you may want to check it out first. But the views and sensation at the top is amazing.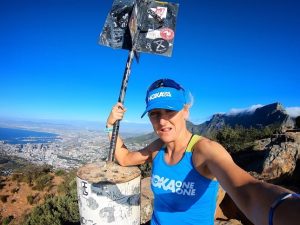 Robben Island: From the top of Lions Head, Signal Hill and of course Table Mountain you can see Robben Island 12km out in the bay. The ferry takes about 30-40minutes and the full visit about four hours, but it's definitely worth the time. It's actually worth starting your Robben island tour at the Waterfront. Head around until you find Susan Krugar, one of the boats that used to transport people over to the island. On the pier by the boat is an exhibition displaying many letters and permit applications that were written to apply for visits. The island visit brought it back that it really wasn't that many years ago that Nelson Mandella was in prison there for 18 of his 27 years from 1964 to 1982!
There has also been a triathlon on Robben Island!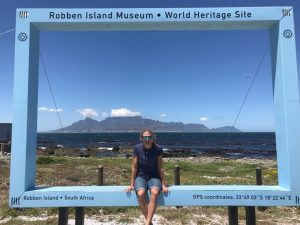 Twelve Apostles: Stretching out along the coast behind Table Mountain, are the Twelve Apostles, a dramtic mountain range, and it's worth taking your bike (or car) and exploring the towns and coastline along the range and down to Cape Point and the Cape of Good Hope.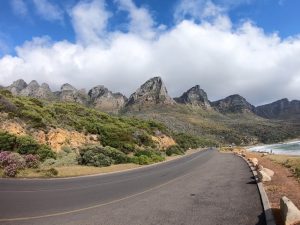 The coastline down to the point is beautiful with many towns and landmarks to explore. The fishing harbour of Hout Bay, is worth a stop, before being breath taken by the stunning drive through the rocks and coast line of Champmans Pass.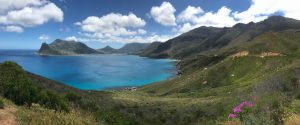 The Cape of Good National Park definitely needs a few hours to explore, and keep an eye out for all the wildlife that you'll see there as well.
Coming back be sure to stop at Boulders, the penguin colony, and through to Simon's Town and a little further on Kalk Bay.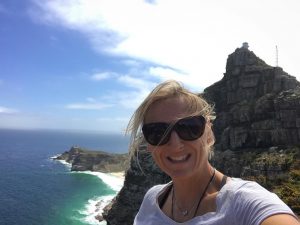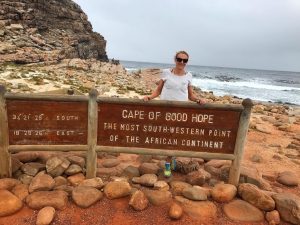 Bo-Kaap: Back in town and be sure to visit the colourful suburb of Bo-Kaap. It's narrow streets are full of vividly painted houses, almost a liquorice allsorts of colours, as well as some good coffee and also Monkeybiz which is worth a look in!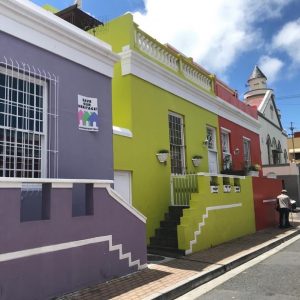 Waterfront: The Victoria and Alfred Waterfront area, is also worth another explore. It's a much more tourist area of town, and you will be sure to find South African musicians and artists down there as well as a plethora of restaurants and shops, all set around the canals of the waterfront adorned with sailing boats. If it's the restaurant vibe you are after, and it's the first Thursday of the month, be sure to head to Long Street and Bree Street to enjoy a great vibe around the bars and restaurants.
Stellenbosch: To the East of Cape Town, is the Stellenbosch wine region, but also a popular location for many triathletes. The British Triathlon Organisation used to use Stellenbosch for its training base, and it's grown to become a popular location for many South African and international triathletes. So, there's plenty of options to take your bike and explore the region by two wheels. Stellenbosch is of course renowned for being a wine region and so it's worth taking in some of the fantastic wines and food on offer.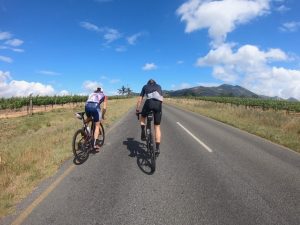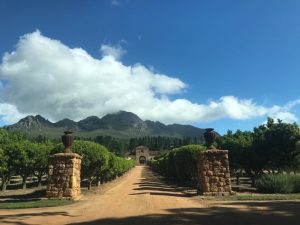 The amazing thing about Challenge Cape Town, is that there is so much more to the race. So much to see and explore, and I haven't even started on the vibrant coffee scene with many independent coffee roasters and cafes service the best liquid gold as well as great food.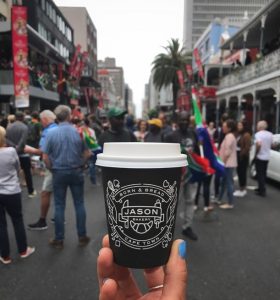 For more images of what I got up to in Cape Town, check out my Insta-stories Highlights of Cape Town
They have already announced the date for 2020, so see you there, November 8th 2020!
Totsiens!
Sid x
Don't Die Wondering
Twitter: @lmsiddall
Instagram: @lmsid
Facebook: https://www.facebook.com/LauraSiddallTriathlete/