After a thrilling final, Austrian Thomas Steger has just won CHALLENGERICCIONE. For a long time it looked as if Spain's Pablo Gonzalez Dapena would win, but after an incredibly strong running part it was Steger who made the decision in the final kilometers. In the women's race Sarissa de Vries won by a large margin: after a strong second place at ANFICHALLENGEMOGANGRAN-CANARIA she now showed that she belongs on the highest step of the podium.
While the athletes remained close together during the men's swim, it was Pieter Heemeryck who was first back in the transition area. After 26:31 minutes he could put on his bike shoes knowing that strong athletes like Pablo Gonzalez Dapena (+10), Mattia Ceccarelli (+14), Davis Thomas (+17) and Frederic Funk (+33) were all following close behind. The biggest absentee from the leading group was Sebastian Kienle, who was three minutes behind after the swim. Because of all the corona measures, the pro's started with a rolling start, which meant that the differences could be slightly distorted.
On the bike, a six-man breakaway quickly emerged. In addition to Heemeryck, also Dapena Gonzalez, Michael Raelert, Andi Boecherer, Giulio Molinari and Mattia Ceccarelli were in the front group. While the pace was quite high, there was still a gap of around two minutes on the first chasers and men like Ruedi Wild, Thomas Steger and Sebastian Kienle were unable to reduce this difference.
After a second lap – and thus just before the end of the bike leg – the situation had changed again. Ceccarelli, who had already won the race in 2019, was clearly in good form and had gained a minute's advantage over his five chasers. At that point Frederic Funk had also joined them, so six men were chasing Ceccarelli. Kienle continued to lose time and was already almost four minutes behind.
During the final kilometers on the bike, Ceccarelli even managed to extend his lead a little more and so began the final run with a lead of about one and a half minutes. The chasing group remained the same, although Dapena Gonzalez lost a few precious seconds during the transition.
However, that did not stop the Spanish athlete from starting the run very strongly and taking over the lead of the race after the first five kilometers. From that moment on, he passed Ceccarelli, although Heemeryck, Funk and Raelert also followed Gonzalez Dapena very closely. At this stage of the race, everything was still possible and everyone had a good chance of winning the race.
[text continues after picture]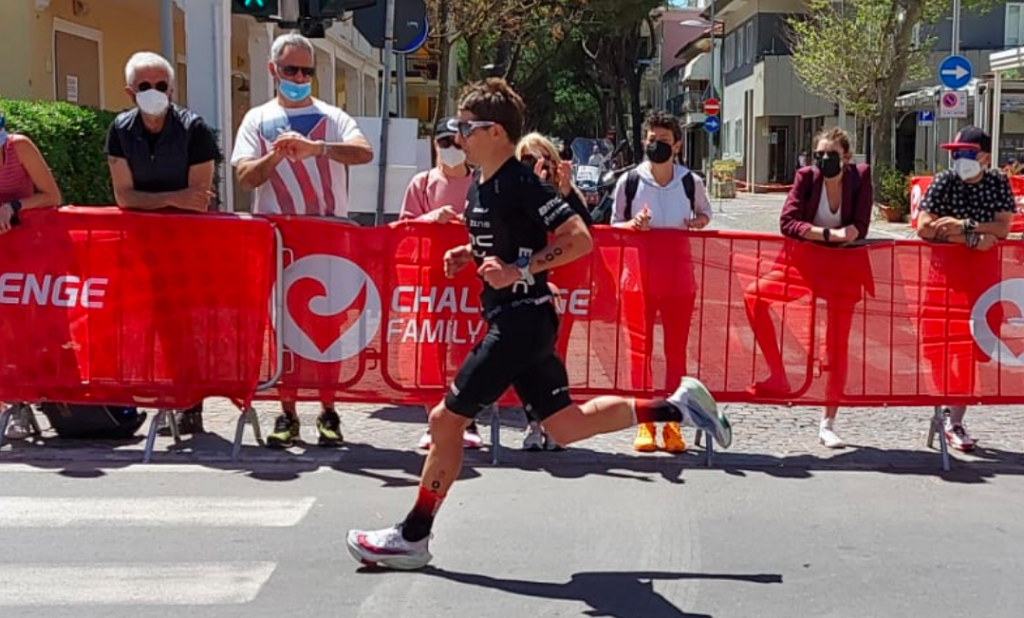 From this moment on, a lot happened in the race. At first Gonzalez Dapena seemed to be running comfortably to victory, but suddenly it was Steger who seemed to have found some extra energy and quickly made up the lost ground to equal the Spaniard. At the same time, Kienle was also advancing up the field and so ended up running in third position when there was still about three kilometers to go.
In the final kilometers, Steger made the difference and proved to be faster than Gonzalez Dapena. Steger finished after 3:52:34hr, ultimately 1:10 minute ahead of Gonzalez Dapena. Kienle took the bronze three minutes later.
Top six men:
STEGER THOMAS                  3:52:34
DAPENA GONALE PABLO     3:53:54
KIENLE SEBASTIAN  GER     3:55:19
CECCARELLI MATTIA           3:55:59
BOECHERER ANDI                3:56:26
GOETSTOUWERS STENN     3:56:47
Sarissa de Vries shows skills at women's race
In the women's race, Zane Ilaria was the fastest swimmer of the day after 28:50 minutes and was the first to get on the bike. Lee India followed in second place and came out of the water 25 seconds after the leader. Dutchwoman Sarissa de Vries came out of the water in third place, eight seconds behind India. One of the biggest favorites, Germany's Carolin Lehrieder, followed in fifth place and gained almost two minutes on the fastest woman during the swim.
On the bike, however, Ilaria quickly lost her lead and it was De Vries who passed her at a fast pace. After the first of two bike laps, De Vries had taken over the lead in the race and Ilaria was already three minutes behind, but India, who was in second place at that point, was still able to follow quite well: she was about fifteen seconds behind the race leader. At the same time, Lehrieder and Alexandra Tondeur – both named as big favorites for the win – struggled to keep up with De Vries's pace, coming through with more than four minutes to spare.
[text continues after picture]
During the second bike loop, De Vries managed to increase her lead to over two minutes on India, who started to lose her strong position. Other women behind followed at more than six minutes or more and with that the Dutch seemed to be in an excellent position to start her half marathon.
This proved to be the case during the run: De Vries never gave up, proved to be very strong there as well, and did not see her lead ever endangered. In the end, she won the race after 4:23:16hr and with that end time she was minutes ahead of her pursuers. India came second after 4:29:03. After some exciting battles for third it was Marta Bernardi claiming bronze after 4:33:29hr.
Top six woman:
DE VRIES SARISSA                 4:23:16
LEE INDIA                                  4:29:03
BERNARDI MARTA                 4:33:29
LEHRIEDER CAROLIN           4:34:34
BERLINGER LENA                  4:35:26
IEMMOLO JULIE                    4:35:57