Only magic in Almere! With a race record in the men's race – South African Matt Trautman set a spectacular time of 7:50:15 – and Yvonne van Vlerken who ended her career with an European title, this year's edition of CHALLENGEALMERE-AMSTERDAM was an enormous success.
During the swim, the British Kieran Linders dominated very strong and after 46:51 minutes he already climbed out of the water. More than a minute later, it were Georgii Kaurov and Aliaksandr Vasilevich following and another minute after that all the favourites followed.
Most of the favourites found each other quickly on the bike and a leading group of five riders was formed: Thomas Steger, Matt Trautman, Kristian Hogenhaug, TomasRenc and Sven Strijk. Evert Scheltinga, the Dutch athlete with best chances, was not joining this breakaway after he was forced to stop the race because of two flat tyres. The five leading athletes stayed together for a longtime, until Trautman and Hogenhaug increased the pace with about thirty kilometres to go. "I just kept pushing", Trautman told so after the race. "Keep going to make a difference on the bike." It was Hogenhaug who told exactly the same after his finish.
The two leaders eventually returned together to the transition zone, but it was Trautman who took the initiative there. With a veryfastpace it soon became clear that the South African was on track towards a new race record, which since last year was in hands of Jaroslav Kovacic (7:55:44). With each lap running, Trautman increased his lead on that record. For a long time Hogenhaug was able to follow in just over half a minute, until the last ten kilometres. That's when Trautman made the real difference, to finally finish in a spectacular time of 7:50:15 hours. "It was an amazing day. My swim was good, my bike was strong and the first 21 kilometres of running went smoothly. After that I started suffering, but I love this victory. This is really nice."
Finally Kristian Hogenhaug followed in second place, only 3:37 minutes after Trautman and therefore as European Champion. "I have mixed feelings. Somehow it's a shame that I didn't win the race, but Matt was just a little bit better. But, the European title makes me very happy: it's fantastic." The overall bronze went to the Czech Tomas Renc (+10:29), who took the silver in the European Championship. Morten Brammer Olsen (+11:11) became fourth overall, but third at the European Championships.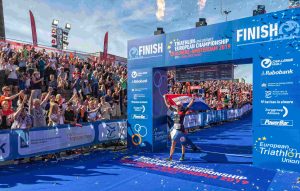 Women's race: unprecedented emotions
At the women's race, it was initially Sarissa de Vries who opened very strongly. After a very strong swim part, she covered the 3.8kilometers in 51:29 minutes, she already had a big lead on all competitors. Yvonne van Vlerken, for example, was almost 8 minutes behind at this point. This gap only gets bigger during the bike. This was only because De Vries was verypowerfull on the bike and that was reflected in her bike time: after 4:38:06 she racked her bike back in the transition zone, which was good for a new bike record in Almere. Van Vlerken came back in second place, more than fifteen minutes behind De Vries. With that the defending champion seemed to be in a beaten position.
During the first 21 kilometres of the running part, it still seemed that way. Van Vlerken did catch up with De Vries, but it didn't go very fast and De Vries kept running steadily. However, this changed after the half marathon point, when De Vries was unable to keep her nutrition in and she lost a visible pace. "I have had so much pain and I just couldn't manage to go faster. Especially in the last lap I even thought I wouldn't make it to the finish", she said in tears after the race.
In that last lap Van Vlerken had already passed De Vries by the way: that happened with about ten kilometres to go. Her delay of fifteen minutes disappeared like snow in the sun and changed in a big advantage. After 8:56:10 hour Yvonne van Vlerken crowned her farewell race with the victory, European and Dutch title. "This is…I have no words for it", she stammered immediately after the race. Added in tears: "This is so important. I wanted to end my career so badly in a beautiful way. And it happened now."
Lina-Kristin Schink passed De Vries in the final phase of the race and finished second at 15:17 minutes behind Van Vlerken. The bronze was for Sarissa de Vries. She was 16:19 minutes behind Van Vlerken. "It doesn't feel like it yet, but I'm undoubtedly very happy with this third place later on."
FULL RESULTS:

live.challenge-almere.com