With a world star like Jan Frodeno at the start of CHALLENGEMIAMI, all eyes were actually on the German world champion. He did not succumb to the pressure, more than lived up to his role as favorite and ultimately took the victory. In the women's race, it wasn't on paper favorites Lucy Charles and Paula Findlay who claimed victory, but after a very strong race, Jodie Stimpson took the honors.
In the men's race, Frodeno was very strong right from the start. "To be honest I was really surprised because it was really a technical course and the wind was so ever changing. The pace really keeps it interesting. The race never became boring. Heads off for CHALLENGEFAMILY to pull this off," said Frodeno after his victory.
Frodeno was already among the first athletes out of the water, but on the bike he had to contend with, among others, a powerful Andrew Starykowicz and a Magnus Ditlev advancing from behind. The latter was – just like three months ago during CHALLENGEDAYTONA – outstanding on the bike, but would drop back during the run. Starykowicz also was very strong on the bike, came back first in the Transition Area, but eventually lost his position during the run as well.
This was not the case for Jan Frodeno, who picked up the lead during his run and continually saw it growing. In the meantime, Lionel Sanders, who started biking with a considerable gap behind, had just started to work his way up in the field. In the end, he picked up one athlete after another and even became second. "I have my speed, but I don't have his speed," Sanders said, laughing and referring to Frodeno. "He is probably the greatest ever in this sport. I executed the best of my ability and that was good for second. I really loved it to race again."
Third place was for Ben Kanute. Like Sanders, the American also worked his way up the field of athletes during the final run, settling an exciting battle for the bronze in his favor. "I've been looking for a strong race for a while now and I've been really working on my run. I think its starting to pay off. The bike was brutal today."
Top three men
Jan Frodeno took the victory after 2:37:57hr. Lionel Sanders came in second (+2:30) and Ben Kanute third (+3:37). All results via: www.challenge-family.live
INTERVIEWS MEN:
1. Jan Frodeno: https://www.youtube.com/watch?v=px5RqsH_P6M
2. Lionel Sanders: https://www.youtube.com/watch?v=DeNu0sBHLqU
3. Ben Kanute: https://www.youtube.com/watch?v=70povZEVt1A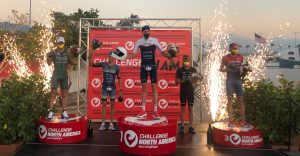 Emotional victory for Jodie Stimpson
In the women's race we all could enjoy an emotional victory for Jodie Stimpson. The British athlete crossed the finish line in tears and immediately thought of her father who died last year. "This is for dad. It was definitively more special to win today. He is keeping me going and he'll continue to keep me going."
It wasn't an easy win for Stimpson, of course, as she had to work hard for it. "You've got Lucy Charles, you've got Paula Findlay absolutely dominating CHALLENGEDAYTONA and you've got absolute Ironman superstars. This field was absolutely stacked and of course I'm so happy to come out on top today."
Lucy Charles: 'It is what it is'
One of the ladies that Stimpson left behind her was Lucy Charles, on paper perhaps the biggest favorite and as expected first out of the water. For a long time Charles was in line with Sara Perez and she even had to go all out to keep up with the Spanish athlete on the bike. When Charles received a penalty for incorrectly overtaking another athlete and had to spend two minutes in the penalty box, her chances for a podium finish seemed much smaller. However, thanks to a particularly good run, Charles still managed to finish in second place. "It's a bit bittersweet. I'm just so happy to be back racing, it's been fifteen months and I've made a few mistakes today, but Jodie was world-class during the run and I'm just so happy with the way I run myself. I can't be really disappointed: it is what it is."
Also the battle for third was a really exciting one, with American Jackie Hering claiming the bronze medal just some seconds in front of Sara Perez. "It was only a battle at the very end there. I was running my way up the field during the run. At the beginning of the last round I had a little debate with myself like if I was about to catch Sara or just keep my own pace. I gave the effort and I did it."
Top three women
Jodie Stimpson claimed victory after 3:01:04hr. Lucy Charles-Barclay became second (+1:21) and Hering third (3:05:05). All results via: www.challenge-family.live
INTERVIEWS WOMEN:
1. Jodie Stimpson: https://www.youtube.com/watch?v=P411mWRo_0o
2. Lucy Charles: https://www.youtube.com/watch?v=3bEAwKB5eS8
3. Jacky Hering: https://www.youtube.com/watch?v=HVvAmDWAPvc