Hi everyone,
I hope you are all doing great and your season is in full swing!
Summer and – with that – race season has arrived all over in Europe. I have four races under my belt already, kicked off things at Challenge Salou in early April and then had a packed schedule with Challenge Heilbronn, Challenge Samorin – The Championship and Challenge Geraardsbergen within six weeks. All of the latter races had special bike courses and challenges, which is exactly what I would like to talk about in today's blog.
Challenge Heilbronn: Tough start, flat finish (1.100m of climbing)
The bike course of Challenge Heilbronn is among my favorites I have seen so far: It is very scenic and gives you a lot of variety with rolling hills and beautiful descents. Compared to previous years, we rode it the other way around and had to face the hilly part right at the beginning and a rather flat section in the second half of the race.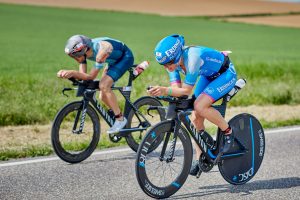 The challenge was to start your bike strong with no time to find any rhythm and still manage to hold back some energy to make use of the fast part in the end to make up some valuable time. I suggest to set yourself an upper limit in terms of power output on the climbs and ride consistently without surges and spikes. It's also helpful to check out the descents in the days prior to a race to feel safe and make up some time without spending energy. If you're doing it correctly, you can enjoy the flat part, use aerodynamics and fly towards transition zone.
Challenge Samorin: Pancake flat (<50m of climbing)
In contrast to Challenge Heilbronn, the bike course at "The Championship" is one thing and one thing only: flat! This is making things not easier though, as you have to put out power and stay in your aero position in every single second of the race. There are no turns or descents in which you can get up and relax for a little.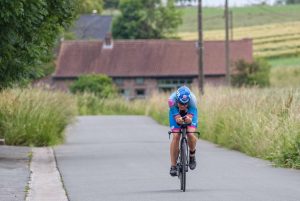 I worked on aerodynamics and a comfortable position with my sponsors over the last years and was able to play out my strengths in the race. I set the fastest bike split (2:07:16) and finished on the podium.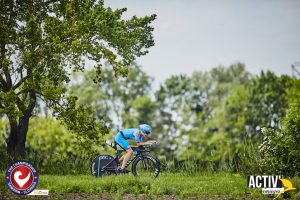 If you consider to race on a course like that, I suggest to find a position that is comfortable enough to be ridden in the aero bars for the whole section. This should be practiced in training and could be started in winter training when you're riding indoor. The more you are training in this position, the better you feel on race day. When you want to maximize aerodynamics, you can perform a "shoulder shrug", where you lower your head and decrease the surface area of your body. This takes practice though and should only be done when you can guarantee safety as your vision is limited in this position.
Challenge Geraardsbergen: Steep cobbled sections (900m of climbing)
In my third race, I faced another beautiful and challenging bike course with an absolute legend in cycling: The Muur van Geraardsbergen, a cobbled section climb of around one kilometer in length with a maximum gradient of 13%. This climb is world famous as it is part of the Ronde van Vlaanderen (one of the famous one day classics in Belgium) and I couldn't wait to ride it myself.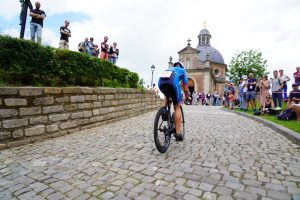 With steep climbs, it is important to consider gear selection, even if this part of the race only takes up a couple of minutes. If you're riding with a 42-25 (meaning 42 chain ring in the front, 25 sprocket cassette in the back), you might end up grinding up that section and leave all your energy out there. Don't forget that the cobble stones take up a lot of extra energy compared to a nice road surface.
When you arrive at the steep climb, you're probably not able to stick to your power zones any longer. You shouldn't be too concerned though about digging deep for some revolutions. Just make sure to start the climb in a small gear as shifting under big power increases the risk of losing your chain or damaging your drivetrain.
Prepare specifically for races
As you can see, all the races had different challenges with which the athletes had to deal. I suggest to prepare specifically for each race that you are intending to enter. If you're racing on a flat course, train in your aero position. If the bike course has a long climb, simulate it outdoors or on the trainer. If you're racing on cobblestones, ride them before to prepare for that bumpy feeling.
Personally, the bigger the race is for me, the more specific my preparation gets. If I am able to do so, I like to check out and train on the race course before the race. That gives me confidence for race day and a good idea of what equipment (gears, wheels, helmets etc.) I want to use.
I hope these tips and tricks are helpful for you and your next races. Don't forget the most important thing though which is: Enjoy the day! 🙂
Good luck for the rest of the season and speak to you soon!
Dani