Hi Everyone,
I just started my season at Challenge Riccione on May 5th and here is a little race report:
In the last two years I started my season in the end of march so Challenge Riccione felt quite late this time which means I couldn't sit quietly anymore the weeks before. I was absolutely relieved when the race week was finally there.
I arrived on Thursday prior to the race so I could still ride one whole loop on the new course which is definitely faster than the bike course before but still very challenging what suits me really well. The city of Riccione is very beautiful and every year it's decorated a little bit different. This year the Giro d'Italia will take place in Riccione on 19th May so everything was decorated in pink and you could see sculptures of cyclists everywhere. Also the people are very friendly and you get this typical Italian vibes while drinking a Cappuccino at the beach or eating a "Gelato" or Pizza.
The first race of the season is always tough so I was very nervous prior the start and could barely eat anything for breakfast. But I was still excited and couldn't wait to wear my new "Team Erdinger Alkoholfrei" racesuit!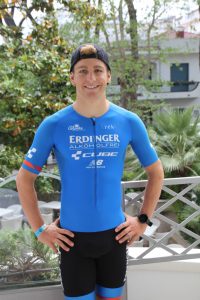 The water temperature was 16°C and the water was very wavy. Then at 9:30 the race for the Pro men started.  I stood right next to the last year's winner Gulio Molinari at the start line, from whom I knew he is a very good swimmer.  I swam on his feet immediately after the start and tried to find my rhythm which wasn't easy in these tough conditions. But I managed to stay behind him and Mattia Ceccarelli for the whole 1.9km swim. We had almost a 1.5min gap to 4th place.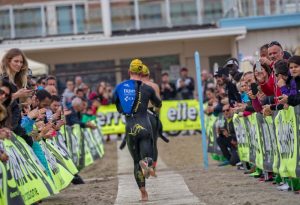 The bike part felt hard from the beginning but it was no problem for me to stay with the two Italians on the flat and the uphill parts. We were pushing very high watts. At one point, I unfortunately lost the contact to Molinari and Ceccarelli on the downhill sections.  I managed to close the gap again in the first lap but when I lost the contact again in the second lap after 65km I decided to do my own race for the rest of the bike section.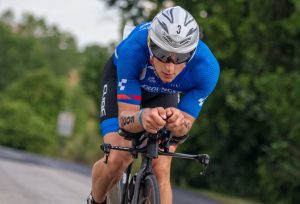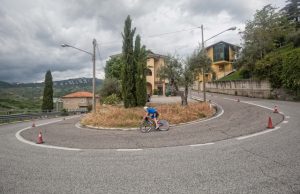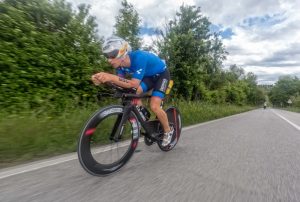 I went onto the run course with a 2,5min gap to the front and a 3min gap to a group of three athletes including last year's runner up Thomas Steger and the spanish athlete Jordi Montraveta. I felt strong on the run but after one of the three laps I still had 2,5min to the front and just 1,5min to Steger and Montraveta. During the second run lap it started to rain, hail and thunder and we were running in ankle deep water. I hoped that the race won't be cancelled and my thoughts were with the 95% of the athletes who were still on the bike course including both of my parents.
Fortunately it got better again just before I was passing Giulio Molinari at the end of the second lap and moved up to second place which I couldn't enjoy for very long because Thomas Steger passed me and I had no chance to keep up. The gap to first place Mattia Ceccarelli was still 2,5min. While running into the last lap I could see Jordi Montraveta coming close as well and I said to myself I don't wanna lose this podium spot so I gave everything I had with 7km to go. With success! I got rewarded with a third place and finished in 3:53:45, less than 2min behind the winner Ceccarelli and 30s behind Thomas Steger on second. Congratulations to all the athletes who could finish their race despite these tough conditions!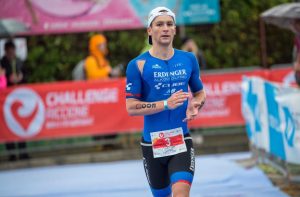 I am happy with my performance in all three disciplines and now that I'm finally back into race mode I'm sure I can do even better throughout this season. I can recommend Challenge Riccione to everybody. It's a great organisation and a great place, challenging but beautiful bike course and a fast, flat and spectator friendly run course.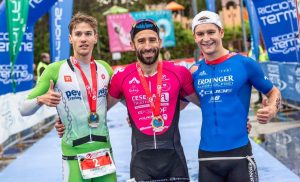 My next race will be the Olympic Distance at Challenge Heilbronn which I will use as a training race for my next highlight "The Championship" in Samorin. I hope I see you at one of those races!
See you soon,
Frederic