Hi everyone,
this is Daniela Bleymehl and I am very happy to be an ambassador of Challenge Family in 2019. 🙂
Many of my best moments in my triathlon career have been at Challenge races with the peak of winning Challenge Roth 2018, when a dream came true. But before telling you about my upcoming season and what Challenge Family and I are planning to do, let me quickly introduce myself:
I am Dani – my name is Daniela Bleymehl; up to recently Daniela Saemmler, but on December 20th I celebrated a big "victory" on a personal level and got married. My friends call me Dani, so you can stick to that as well! 😉
I am 30 years old, living in Darmstadt/Germany and I have a seven-year-old son, who is making me the happiest mom in the world every day! Marlon was born, when I was about to decide whether I want to try it as a professional triathlete or focus on my studies and a job afterwards. During that period, I was part of the Erdinger Alkoholfrei junior team, a team of young talents, who can learn from the more experienced athletes in the professional team. Thanks to the support I got there, I decided to give it a shot and to try my best a professional athlete. I finished 3rd at my very first long-distance race, the Challenge Barcelona 2012, which was 20 months after my son was born.
Since then I have developed as an athlete and also as a person. That 3rd place at Challenge Barcelona gave me confidence. I knew I could do it, if I worked hard and had a team around me to support me along the way. This team consists first and foremost of my family. It might sound clichéd, but without them my whole career would not have been possible! There are also my friends, coaches, sponsors, team mates and of course the fans, who give me the daily motivation for my training and the hard work. Hearing fans screaming your name on the side of the race course when things get tough is among the best feelings you can ask for. A huge Thank you!
Challenge races have always been special for me.
Speaking of the fans and race courses: Let me tell you a bit about my experiences with Challenge Family and what we are trying to do in 2019 with me being an ambassador this year.
The relationship between the athletes, the volunteers and organizers of Challenge Family is just unique and you'll find it in every single Challenge race around the globe. Of course, some races have a special meaning for me, for example Challenge Heilbronn with its challenging bike parts and the beautiful run course with many spectators along the roads. I could win it in the last two years, in 2018 my performance and the win as a result gave me a lot of confidence for my biggest race so far: Challenge Roth. 
Before Challenge Roth I knew that I was in good shape, mentally prepared and ready to fight for a great result. But winning – especially in the way the race unfolded – was an absolute dream come true and sometimes I still have to pinch myself when thinking about it. Lucy Charles and I were battling on the run course, after on the bike and the run, I was slowly able to make up the eight-minute gap after the swim… I was taking the lead within the last seven kilometers of the run for the very first time of that day. Lucy was then chasing me through the city of Roth and the crowds were absolutely CRAZY! They carried me all the way to the finish line, which was the most emotional, yet most hectic finish line for me so far. With one of the best athletes in the world being just nine seconds behind you, you don't take a lot of time to celebrate. I was just happy to cross the finish line on both feet, before lying down on what has to be the coziest carpet on tour. 😉
The picture is still giving me goosebumps every time I see it…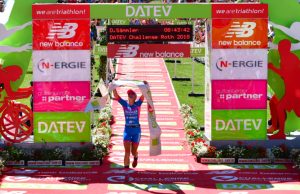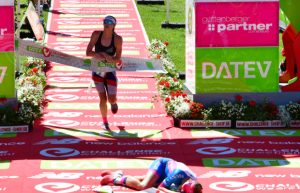 Tips and tricks throughout the whole year!
After hearing just some of many experiences with Challenge Family, you might not be surprised that I am already looking forward to be racing more Challenge events this year. I'll start my season at Challenge Salou (April 7th), followed by Challenge Heilbronn (May 19th) and The Championship – Challenge Samorin on June 2nd.
Before and in between the races I am going to provide you with as many tips and tricks as possible in the Challenge Family blog. With being a triathlete for 17 years already, I made a lot of experiences – good and bad ones.
I will try to give you as many valuable insights as possible on training advices, race tactics, preparation and tips on how to deal with setbacks, such as injuries or disappointing results. I hope to provide you with interesting content, helping you to get through the season in our truly wonderful sport.
I am hoping to seeing many of you at the race venues and along the course. Being a Challenge Family ambassador makes me really happy and excited and I can't wait to get the season started! 🙂
I wish you all the best for your season!
Dani